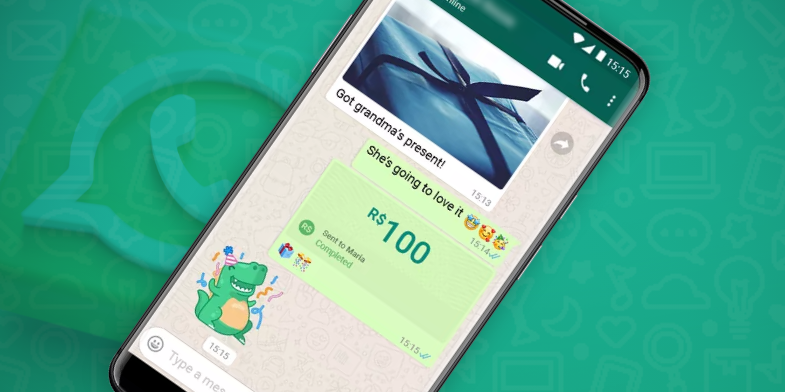 Facebook-owned WhatsApp has launched its payments service in Brazil finally. Users in Brazil would be the first to be able to send and receive money with the help of the messaging app, using Facebook Pay. The payments enabled through Facebook Pay will not charge any fees from consumers to use the service but merchants will have to pay a processing fee to receive payments.
Facebook CEO Mark Zuckerberg revealed this in a blog post that the feature is being officially rolled out in Brazil. He said, "We're excited to announce that starting today we're bringing digital payments to WhatsApp users in Brazil. People will be able to send money securely or make a purchase from a local business without leaving their chat."
The blog also mentioned, "Besides, we're making sending money to loved ones as easy as sending a message, which could not be more important as people are physically distant from one another. Because payments on WhatsApp are enabled by Facebook Pay, in the future we want to make it possible for people and businesses to use the same card information across Facebook's family of apps."
The blog post also said, "Payments on WhatsApp are beginning to roll out across Brazil beginning today and we look forward to bringing it to everyone moving forward".
The user will be able to use the service by linking up his WhatsApp account to his Visa or Mastercard credit or debit card, with initial local partners – Banco do Brasil, Sicredi, and Nubank. A payments processor, Cielo is also joining hands with WhatsApp to complete the transactions. The company has big future plans and it has built an open model to welcome more partners on board.
Over security concerns, the company said, "We have built payments option with security in mind and a special six-digit PIN or fingerprint will be required to prevent unauthorized transactions."
There is no information yet on any specific roll-out plan to other countries and when this would happen. However, WhatsApp's Beta testing is on in India with hopes of it becoming available in the country after the testing phase has been completed. It is also not clear whether Facebook will be open to working with other kinds of payment methods beyond Facebook Pay.
"We're continuing to roll out Facebook Pay on Facebook to more countries outside the US for existing payment experiences, which vary country to country and may include in-game purchases and fundraisers," a Facebook spokesperson said without revealing a lot of facts.
WhatsApp till now has been adopted informally for commercial purposes globally. Small business owners have been using it frequently to exchange messages with clients for the sale of goods, what all is in stock, and other business queries. But now with payments, WhatsApp is finally taking a deep commercial plunge, giving its users not just a place to chat about a product, or send payment details but do transactions.
Facebook acquired WhatsApp for about USD 19 billion in the year 2014. Till February this year, the messaging service had more than 2 billion users.